5 Most Famous Basketball Stars
Love 'em, or hate 'em – you've definitely heard of them, even if you are not a huge basketball fan. There are those that pursue careers in other areas (such as movies or TV shows), while others have interesting physical characteristics. This is our list of the 5 most famous basketball players in the world.
Dennis Rodman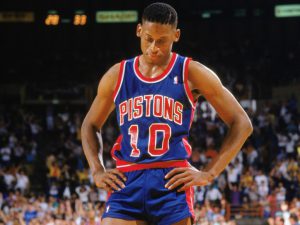 One of the things he was well-known for (besides being awesome at what he does) was his crazy hair. Some of you kids might not remember, but Rodman had hairstyles that were out there at times. Whether it was green, orange, or the Chicago Bulls logo, it meant you always knew where he was.
Dennis Rodman is retired, but, in his time, he was an amazing player with an unbelievable defense that went on to play for several teams, starting with the Pistons and ending with Mavericks. One of the recent interesting things about The Worm is that he is one of the few westerners who had any contact with the leader of North Korea.
Shaquille O'Neal
Shaq is currently working as a sports analyst, but he was a freakin' legend. This titan, with over 7 feet tall and 330 pounds of power, won three All-Star MVP Awards. This is just one of the nearly uncountable achievements he has accomplished during his career of almost twenty years.
He tried his luck as an actor as well, though some of his movies were hilarious in spite of not being comedies. He is most famous for Kazaam, Steel and Shaq Fu (look it up).
LeBron James
Still playing, and still going strong, LeBron is playing for the Lakers after a long career with the Cavaliers and Miami Heat. He has been in the world of basketball since his high-school years. When it comes to his non-basketball related projects, he appeared in several movies, and offered his voice in shows like SpongeBob and Teen Titans Go!
Kareem Abdul-Jabbar
The oldest player on this list with his 71, Kareem was born as Ferdinand Lewis Alcindor Jr. Unlike other players on this list, he didn't play for a multitude of teams. Instead, he focused his efforts on the Bucks and the Lakers. He even turned down the opportunity to play for the Globetrotters!
He converted to Islam and changed his name to Kareem Abdul-Jabar when he was 24, after leading the Bucks to their first NBA championship.
Michael Jordan
Here we go – this is the NBA of the nineties, period. He scored on average 30.12 points per game in regular seasons, and, in spite of leaving basketball in favor of baseball for a short time, he is the greatest NBA player of all time.
Even if you don't know him as a basketball star (which, you have to admit, is somewhat far-fetched), Jordan is known for his product endorsement, as well as the movie Space Jam, where he plays basketball alongside the Looney Tunes. Few people can boast about being on screen with Bugs Bunny and Daffy Duck.